ORCHID GROWERS - BY NAME
Cal-Orchid, Inc. - Santa Barbara, CA
Gallup & Stribling Orchids - Carpinteria, CA
Orchids Royale - Carpinteria, CA
Santa Barbara Orchid Estate - Santa Barbara, CA
Westerlay Orchids - Carpinteria, CA
Zuma Orchids - Malibu, CA
2022 UPDATE - Nursery hours may vary due to pandemic era concerns and changes. Please check with individual nurseries for modified hours of operation or closures before planning you visit.
ORCHID GROWERS - NORTH TO SOUTH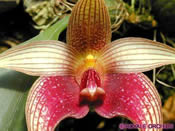 Cal-Orchid, Inc.
1251 Orchid Drive
Santa Barbara, CA 93111
805-967-1312
Hours:
Call ahead to schedule an appointment - 9:00am - 4:00pm (Wednesday, Thursday, Friday & Saturday)
www.calorchid.com
calorchid@cox.net

In the early 1970s, owners James & Lauris Rose began their orchid careers in the commercial realm, both working for Santa Barbara Orchid Estate. They met and married, eventually purchasing their own nursery across the street from Orchid Estate in 1987. The inventory at Cal-Orchid is very diverse and reflects the interests of not only the current marketplace, but also many trips made to foreign locales. James has long been known to have a sharp eye for the unusual. They are located on the Pacific Coast in Santa Barbara, two short blocks from the beach. They maintain 25,000 square feet of intermediate temperature controlled greenhouse as well as an additional 25,000 square feet of saran-covered shade area. They offer plants for everything from coastal Southern California gardens, greenhouses to windowsills.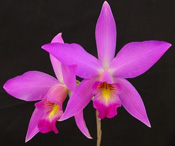 Santa Barbara Orchid Estate
1250 Orchid Drive
Santa Barbara, CA 93111
805-967-1284
Hours:
10:00 am - 2:00pm (Friday)
9:00am - 3:30pm (Saturday)
www.sborchid.com
sboe@sborchid.com

Located on five acres of beautiful coastal Santa Barbara, the Orchid Estate is just 500 feet from the Pacific Ocean. Santa Barbara Orchid Estate was founded by Robert J. Chrisman, a legendary orchid grower. The estate was managed by Paul Gripp in 1957, and later, in 1967, he purchased it. Paul Gripp retired in 1986, and currently, his two children, Parry and Alice are the owners. The Orchid Estate is one of the world's foremost collectors and propagators of orchid species and hybrids, specializing in outdoor temperature tolerant varieties.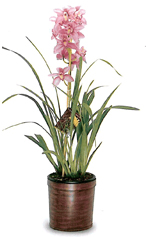 Gallup & Stribling Orchids
3450 Via Real
Carpinteria, CA 93013
805-684-1998
Hours:
8:30am - 5:00pm (Monday - Saturday)
11:00am - 3:00pm (Sunday)
www.gallup-stribling.com

Gallup & Stribling has been a premier supplier of orchids throughout the world for more than 50 years. Founded by Aleck Stribling as Aleck's Orchids in 1947, the business became a partnership when Emmet Gallup joined in 1954. It expanded into its present corporate form in 1959. Gallup & Stribling's home farm occupies 48 acres along the central California coast just south of Santa Barbara, one of the largest in the country. With more than 1.5 million square feet of greenhouse space, it is a state-of-the-art breeding, growing and distribution facility.

Orchids Royale
5902 Via Real
Carpinteria, CA 93013
805-684-8066
Hours:
Open by appointment.

Owner Jim Burkey began working with orchids in the late 60s and early 70s with Paul Gripp at the Santa Barbara Orchid Estate. In 1979, he launched his own operation, Orchids Royale, with his wife Noelle on a former avocado ranch. Orchids Royale grows mostly cymbidiums, but also paphiopedilums, miltonias and odontoglossums. They maintain 70,000 square feet of temperature-controlled greenhouses.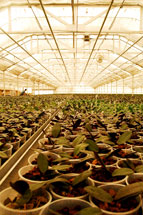 Westerlay Orchids
3504 Calle Real
Carpinteria, CA 93013
805-705-8510
Hours:
9:00am - 4:30pm (Monday - Friday)
10:00am - 4:00pm (Saturday)
www.westerlayorchids.com

Founded in 1978 as Westerlay Roses, Westerlay Orchids is a family-owned and operated commercial grower of orchids. The company was started by Joe Overgaag following his emigration from the Netherlands to Carpinteria, and later he earned the distinction of being among the first in the nation to widely apply hydroponic growing technology to flowers. In 2003, Westerlay leveraged its superior greenhouse technology and the area's climate to enter the strongly growing potted orchid market. Westerlay Orchids currently grows approximately 600,000 Phalaenopsis and cymbidium orchids annually and continues to evolve. Westerlay Orchids sells to wholesalers, supermarkets and home improvement chains in California and adjacent states.

Zuma Orchids
5949 Bonsall Dr.
Malibu, CA 90265
310-457-9771
Hours:
8:30am - 4:00pm (Monday - Friday)
9:00am - 4:00pm (Saturday)
www.zumaorchids.com


Zuma Canyon Orchids, now called Zuma Orchids, has been a staple of the Malibu community since its founding in the early 1970s. What started off as a small family business, led by Amado and Maria Vazquez, has continued to grow into what is now a well-known, trusted and respected company in the Orchid and local community. The current (and new) owners Oli and Ana Alvarado started working at Zuma Canyon Orchids in the 1980s. In 2018, the business was in the process of being sold to another buyer but in the midst of all of this Malibu was struck by the Woolsey Fires. This devastating natural disaster not only impacted several Malibu families and local businesses, but also burned down several of Zuma Canyon Orchids' structures. During this time, the buyer backed out which gave Oli and Ana the opportunity to make their dream a reality and become new business owners. As of August 1, 2019, Oli and Ana are the new owners of the business, Zuma Orchids, thus keeping the family owned and operated business tradition alive. Zuma Orchids prides itself in providing high end orchid arrangements specializing in phalaenopsis orchids.